Summer Camp Staff Information
We are always looking for exceptional individuals who love camp and enjoy working with children. If you are interested in working at the 2018 summer camps please apply online prior to February 3rd, 2018. We are looking for individuals who have experience programming activities for children, who work hard and are dedicated to providing an incredible camp experience for our campers. Candidates must have a police check and their first aid/CPR. It is your responsibility to have these items prior to the beginning of camp. If you miss the deadline or do not have the required certification you will not be considered for camp.
Working at a summer camp as a summer camp counselor is a rewarding experience. You build memories for yourself that will last a lifetime, learn skills that will help you throughout your life and will have the time of your life. In saying this, you must be able to handle the stress that comes with working with children. Working as a summer camp counselor is not for everyone. This is not a negative reflection on you, but just a realization that this may not be the job for you. Your gifts may just be designed for another job. If you love working at camp and love working with children, the stress that comes with the job may not be an issue.
HUMAN RIGHTS CODE
Kids 4 Kids Leadership Programs Inc. recognizes the principles and intents contained in the Canadian Charter of Rights and Freedoms and the Ontario Human Rights Code for the Province of Ontario, believes that every person has a right to equitable treatment with respect to the educational process, or service and employment without discrimination because of race, ancestry, place of origin, colour, ethnic origin, citizenship, creed, sex, sexual orientation, age, marital status, same-sex partnership status, family status or disability. We will make any reasonable accommodations, based on any of the human rights protected grounds, to support candidates to participate in the hiring process. We will provide employment accommodations (i.e. breaks, unpaid and paid days off and extra staff support) if we are advised of an applicant's needs in advance of any part of the selection process. IMPORTANT: The verbal request must be followed up with a written request.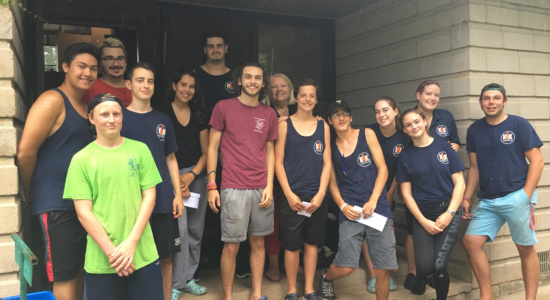 Senior Staff Qualifications

To apply to camp please fill out and submit the online staff application. Deadline for submission is March 3rd at 12 midnight. The application process will then be closed. 
Application Process 2018
Fill out and submit the online application.There is a one-page essay question on the application.I would recommend writing the essay, then copying and pasting it into the application. Write an essay on why you want to be a Kids 4 Kids summer camp counsellor or what leadership means to you?
1st interview – If you are contacted for an interview you will be interviewed for 15 minutes. We will ask you various questions related to working with children.
2nd interview – We will call successful candidates to a practical interview where you will be given the opportunity to lead games and teach a leadership lesson.
Full-time applicants will be given precedence this year for employment. Full time means that you are available for the entire summer with a week off for a family vacation. Full-time staff receives six to eight weeks of work.
The date you submit your application and the effort you put into it reflects your interest in the position. Please take your time when answering the questions. If you are being considered for employment you will be contacted for an interview. There will be a committee that will determine this summer's camp staff.
Desired Qualifications:
Minimum age 16+
Current Standard First Aid/CPR
Proven ability to care for and supervise youth
Experience as a summer camp cabin counselor or working with youth in a recreational or educational setting
Ability to program creative activities and events
Rate:
Specific Responsibilities:
Recognize and respond to the needs of campers within the group and within the broader camp community.
Ensure that your campers are supervised at all times.
Act as a role model and mentor to campers and the Extreme Team at all times.
Accompany your campers to all activities and assist the activity staff.
Plan, lead and evaluate all group-based activities onsite and offsite.
Provide opportunities within the group experience that allows for the success of individual campers and the group.
Eat with campers, stress table manners, independence and communicate with your campers throughout the meal.
Participate actively in all activities with your campers.
Ensure all programs and activities are being delivered in accordance with our camp standards.
Participate in the night-watch rotation with other counselors.
Fill out and hand in paperwork on time. i.e. Incident reports and accident reports.
Be aware of any health issues or general concerns expressed by the Camp Director or Nurse or parent prior to the start of camp.
Exercise strict risk management skills during all on-site and off-site activities.
Set the example for campers and others including cleanliness, punctuality, sharing clean-up chores, sportsmanship, language, and co-operation.
Lead Counsellors - Supervisor Qualifications
Desired Qualifications:
Minimum 21 years old.
Working towards a post-secondary degree/diploma, or enrolled in a recreation or education related field.
Experience instructing program activities at summer camp or outdoor education centre.
Experience at a residential summer camp or outdoor education centre.
Proven ability to organize the delivery of recreational and leadership programs and activities.
Rate:
Specific Responsibilities:
Work with all staff and act as a mentor to manage and monitor the state of camp equipment and facilities.
Responsible for the design and delivery of the camp program.
Organize the campers for swimming
Meet daily with camp counsellors to ensure they are prepared for their activities.
Meet daily with executive director and keep him informed of the general state of camp.
Make sure morning workshops and afternoon activities are organized.
Prepare evening camp wide games & program.
Aid in the preparation of campfire programs.
Be hands on with cabin clean up.
Monitor general and individual staff well-being and concerns.
Act as a resource and provide ongoing daily support to instructors.
Aid in staff recognition and appreciation.
The standard of behaviour for our staff is set by you. You need to role model the behaviour expected by our staff.