Experience the Extraordinary
The Camp Kahuna Sleep Away Camp combines traditional camp activities like swimming, fishing, cooperative games, and camp-wide themed events with the extraordinary. We have had visits from internationally recognized BMX Bike  Stunt Teams, rock bands like the Spoons, Kings and Glass Tiger, Olympic medal winners, magicians, animal experts and athletes like Pinball Clemons. Every year we search for presenters who can inspire and motivate our campers. We strive to exceed your expectations.
A Typical Kahuna Overnight Program
We develop unique programs every summer that will inspire children to pursue leadership. We believe everyone has the potential to be a leader. First, however, children must understand how to use their gifts to help themselves and help others.
We have seen tremendous personal growth in the campers that attend Camp Kahuna. We help them develop the characteristics of a leader: respect, responsibility, taking the initiative, integrity and trust. We help them build resiliency and become self-advocate. We do this through the activities and workshops we provide.
Our Staff
Our staff is dedicated to the campers who attend Camp Kahuna. They are handed picked by Scott Graham and his leadership staff. We want individuals who model and teach leadership. Most of our staff are university age and have had summer camp experience. They all have their police checks and first aid and CPR training.
Scott Graham, director of Camp Kahuna, has received awards from the Governor General of Canada, is a bestselling author of six children's books and tours Canada teaching students leadership and anti-bullying skills. No other camps in Canada offer the same leadership and direction as Camp Kahuna.
Our Facilities & Camp Menu
CAMP MENU: July 2023 Camp Kahuna MENU updated Jun 15
CAMP SIDRABENE – We rent Camp Sidrabene for our day camps and full-week sleepaway camp in August. It is an excellent 65-acre property in north Burlington, surrounded by the Niagara Escarpment. Our campers sleep in cabins that all have their washrooms. We have an industrial kitchen, gym, basketball courts and access to an outdoor pool and Bronte Creek for rafting. The property is breathtaking.
BLUE SPRINGS SCOUT RESERVE – We rent the Blue Springs Scout Reserve south of Acton for our half-week sleepaway camp. Children sleep in a log lodge, eat in a beautiful cafeteria and can explore 100 acres of forests and streams. It is a stunning property.
Every year we strive to create an incredible camp program because our goal is to provide the most unique and incredible camp experience for the children we serve. We will exceed your expectations.
Blue Springs Scout Reserve
SUMMER SESSIONS 2024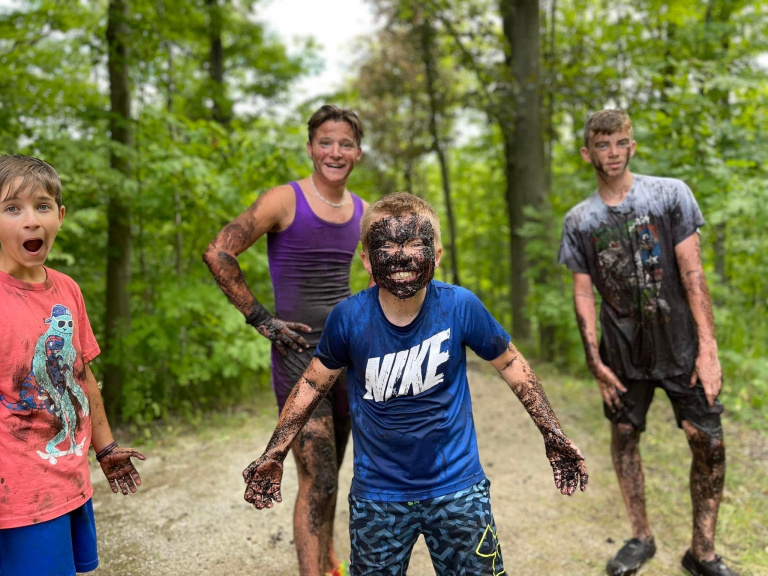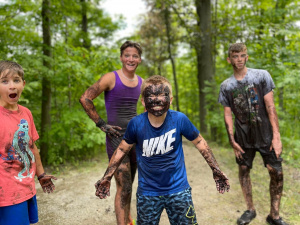 Half-week sleep-away camp
$475.00
9:30 a.m. – Wednesday, July 3rd to 4:00 p.m. Friday, July 5th, 2024
Full-week sleep-away camp
 $925.00
12:30 Sunday, August 18th to 4:00 pm Friday, August 23rd, 2024
---
The campers wake up at 7:30 and are off to the flag pole for morning announcements and the leadership "Thought of the Day."
8:00 am – Breakfast
After breakfast, we offer three workshops that change each day. Past workshops have included visits from celebrities, i.e. "Spinner" from Degrassi, Nathan Macleod, star of "Life With Boys," Bubble Soccer, Magic Workshops, Sports Events, Juggling, Dance, Crafts, Sound Recording, Drama. These workshops change every year. We strive to offer workshops that reinforce leadership concepts.
Noon – Lunch
Our afternoon is filled with our big camp events.  We have had events like The Amazing Race, The Zombie Mud Run, Search for Atlantic, Survivor, Hawaiian Luau…
Here is an example:
1:00 pm – Rest Period
2:00 pm – The Great Kahuna Carnival featuring jousting, an inflatable obstacle course, the Eliminator Obstacle Course, a rock wall, Wipe Out's BIG BALLS, the Sports Dome and cotton candy
4:00 pm – Cabin time: Swimming, fishing, cabin campfire, cooperative games, hike, boat building, creek activities, crafts.
5:00 pm – Medieval Dinner
6:00 pm – Preparation for evening activities
We have sit-down presentations in the evening with our dances, bands and campfire programs. Here is an example:
6:30 pm – Capture the Flag, Acorn Football, Survival, Battle of the Basins, or Colour Wars
7:00 pm – Camp Rock Band: Blonde Hair Don't Care/Neon Dance Party
8:00 pm – The Hypnotist Show with the Great Joe-Lynn
9:00 pm – Survival theme Campfire
10:00 pm – Lights Out
Camp Meals
We strive to give our campers incredibly delicious and nutritious meals. We buy our food, and it is cooked at camp. We offer our campers food they like, but that is nutritious. The kids eat in our mess hall for all meals. If there are specific allergies, we try our best to meet campers' particular needs. All meals are nut-free, and we have a vegetarian option and make accommodations for gluten-sensitive diets. We will have fruit/snacks available at supervised times during the day in case a camper is hungry before a meal.
We Will Surpass Your Expectations
My staff and I will do everything possible to meet your expectations and surpass them. We provide a unique camp program, an extremely dedicated staff, a camp nurse, excellent, nutritious food, daily camp emails, and a beautiful, safe venue close to home.
We realize for some parents; it is a big step to let their children go off on their own to camp for a week. We appreciate your trust and will ensure your children are well fed, cared for and safe. We go beyond what is expected to provide a fantastic week of summer camp. Your child will return home with experiences and stories that will be shared for years.
We look forward to seeing you at camp.